JANUARY 9, 2019


ERIC KRAMER


TROUT FISHING ON THE KAMCHATKA
PENINSULA IN RUSSIA
---
Eric's presentation will feature a slideshow of his trip to Russia, and he will talk about important details like:
1. How to get there.
2. Where to stay.
3. Who to fish with.
4. And details about the two rivers that he fished at.
---
BIOGRAPHY:
Eric Kramer, was born in Los Angeles in 1946 and became enamored with fishing at the age of five when he started fishing in Echo Park lake. 
He fished most of his life with bait and hardware, but when he retired from teaching in 2006 he joined the Fly Fishing Club of Orange County and has been fly fishing ever since.  He joined the Sespe Fly Fishers after moving to Oxnard in 2010. 
His presentation on the Kamchatka Peninsula in Russia will cover two of the regions great rivers along with information about the guide service that he used and the amenities afforded to them during their time there.  
The Kamchatka peninsula is one of the few places where one can catch wild trout and salmon in an unspoiled wilderness setting.  If the Kamchatka Peninsula is on your bucket list you won't want to miss Eric's show.

Kamchatka Peninsula (below)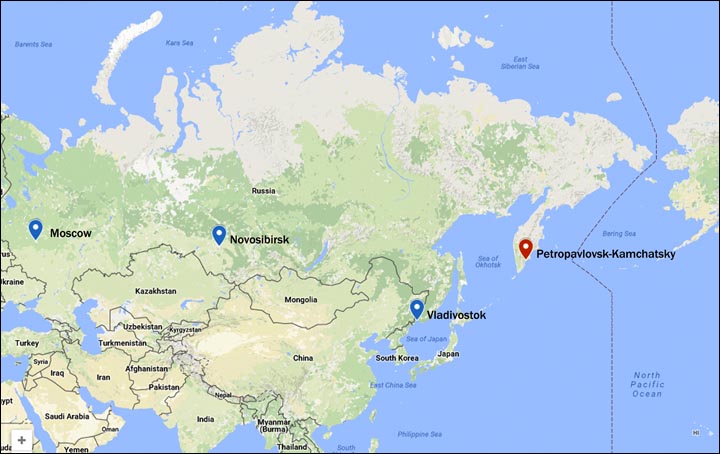 ---
(Video teaser on YouTube):
---
OPEN TO MEMBERS,  GUESTS AND THE PUBLIC


MEETING DETAILS:
DINNER – 5:00 to 6:30pm (Optional)
BJ's BREWHOUSE
3955 Thousand Oaks Boulevard, Westlake Village, CA 91362 – map
805-497-9393

MEETING  LOCATION – 6:30pm
CHURCH OF CHRIST
2525 E Hillcrest Drive, Thousand Oaks, CA 91362 –  map

CLUB MEETING SCHEDULE
6:30pm: Meet & Greet / Fishing Reports / Club Announcements
7:00pm – 8:30pm:  Program / Speaker / Presentation